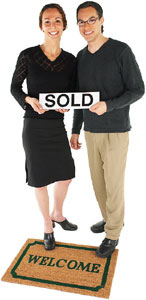 Transition from Renter to Proud Homeowner: It's Closer Than You Think
Do you find yourself daydreaming about the day you'll own your very first home? Tired of investing in rent for a house or apartment that never truly feels like yours? Take heart, because the journey from being a renter to becoming a homeowner may be more attainable than you imagine. I'm here to guide you every step of the way.
Where to Begin?
1. Master the Financing Basics Embarking on your path to homeownership starts with understanding the fundamentals of financing. Equip yourself with the knowledge you need to become a savvy shopper, beginning with the essential step of getting pre-approved.
2. Pre-Approval: The First Step to Smart Shopping When you contemplate your first home purchase, you'll likely discover that making monthly payments won't be a concern, given your previous experience in paying rent to your landlord. However, the challenge often lies in gathering the lump sum required for a down payment. The good news is that multiple options exist to transform your dream of homeownership into a joyful reality.
Exploring Opportunities for First-Time Buyers
For those taking their inaugural step into the world of homeownership, various local and federal government programs are in place to provide assistance. First-time homebuyers, defined as individuals who have not owned a home in the last three years, may find these programs particularly beneficial. Additionally, there's a limited-time $7,500 Tax Credit, retroactive to 2008, that could be a valuable resource on your journey. Don't hesitate to reach out to me for more information on these options.
Leverage Your Lender
Your trusted bank or credit union can also be a valuable resource. If you're debt-free and possess an asset that's free and clear, like a car, your lender may consider securing the down payment against this asset. This can provide the financial boost you need to embark on your homeownership journey.
Private Contracts: A Potential Path to Homeownership
Exploring private contracts with sellers is another avenue worth considering. Some sellers may be willing to facilitate your home purchase by carrying the contract themselves, effectively waiving the need for a down payment. In such cases, you may only be responsible for making monthly mortgage installments, making your transition to homeownership more accessible.
Solutions for Financial Challenges
Overcoming Credit or Tax Hurdles Even if you're contending with credit issues or tax obligations, homeownership can still be within your reach. Consult with your lending institution to explore options, such as contributing a higher down payment, which can help mitigate these challenges.
If necessary, seek guidance from a financial advisor or a tax resolution service. These experts can provide tailored solutions to address any financial hurdles standing in the way of your homeownership dreams.
Your path to homeownership is illuminated with possibilities, and I'm here to help you navigate it. Don't let uncertainty hold you back. With the right guidance and resources, your transition from renter to homeowner can become a reality sooner than you think.